Over the years I've poured hundreds of concrete floors in pole buildings, most all residential pole barns have concrete floors.  I've been getting several emails recently asking for general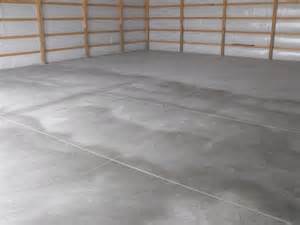 costs of a concrete floor in a pole building.  I do a lot of budget numbers for people looking to buy or sell property and those looking to build a pole barn, others have a pole building that just never had a cement floor poured in it and they are ready to put one in.  Giving a ball park figure for concrete flatwork is pretty straight forward, I'll share some ideas about concrete floor costs so you won't have any surprises along the way. If you want to get a concrete floor installed in your pole barn get in touch, I'd be happy to get it done for you.
Costs of Concrete Floors in Pole Barns
I've found that every builder does things a little differently when it comes to site preparation.  Some understand each part of the process and proceed in a way that can save costs later, others simply erect the pole building and that's it.  If you have someone come in to pour a floor in your building and they find a sod yard under your pole barn roof, then costs will be different if there is a sand base already installed that has been rough graded to "some what smooth".  Here are the top realities that affect the price of a concrete floor:  Get a Quote Below
How thick should the floor be, what will it be used for?
How much site work needs to be done?  Does sod need removed?  Do you need sand fill?
Will there be floor drains?
Can a concrete truck get to the pole building in order to off load?
Comments or questions are welcome.
I will go through each of these real quick and give you a ball park price for each.  Keep in mind these are ball bark and they are budget numbers, you should come in UNDER these numbers or at the low end of the range.
How thick shoul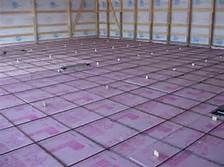 d the floor be?
The thickness of the floor directly impacts the cost of materials for the job.  Obviously it will take more concrete to pour a floor 6″ thick than one that is only 4″ thick.  So how thick should you pour your floor?  I recommend a standard 4″ floor for most residential pole buildings.  If you are just storing toys, lawnmowers and cars in the pole barn, then 4″ of concrete will more than suffice.  If you have a Cherry Picker (for motors) or you plan on storing something very heavy then 5″ or 6″ floor will hold up better.  I always recommend using reinforcing in all pole barn floors.  I use re-rod, wire, and/or fiber depending on the sub grade and what the floor is going to be used for. For a 4″ floor with minimal prep work, you can figure $2.25-$3.00 per square foot.  For each additional inch of concrete just add $.35-.40 cents a square foot.
How much does site work cost?
Your concrete floor needs to set on or be supported by something, that is called  the sub grade or base.  The normal situation for pole barn floors I've done is that a load of sand may need to be brought in or I just need to level and compact the sand that is already there.  I call this final grading.  Sometime I don't charge any extra for this, if it can be done in a couple hours I just include it in the square foot price. So if minimal final grading needs done and that's it, figure $0.o – .25 a square foot tops.
Ok, let's say your project requires the old sod to be taken out and sand fill brought in.  If the building is already up and the squirt board is on you'll see grass in the building and you'll see daylight under the squirt board.  The builder, in this case, didn't do any site work.  It is more difficult to be accurate here but a good range would be $.50 – $1.50 per square foot.
What other details affect the cost of a pole barn floor?
So that leaves the last two, drains and accessibility. Drains don't add a lot of cost if they are just regular floor drains with a tile running out to the exterior of the pole building.  I add $75 per drain.  Some folks want trench drains installed and these can be more expensive.   You can buy premade trench drains, which are expensive, or you can let me build one.  I charge $15.00 a foot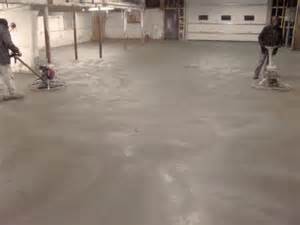 for a quality trench drain built with solid concrete.  This doesn't include the grate.
Accessibility is a big deal because the concrete weigh so much.  If the truck can pull right up to the building at a couple different locations I don't add any money to the quote.  If the truck can't drive right up to the building for some reason, then concrete buggies or a bobcat will need to shuttle the concrete into the building and be dumped that way.  I usually add a flat rate of $250.00 – $400.00 depending on what I need to do to get the job done.
If you would like a quote on getting your floor poured then just get in touch.  You can request a quote on the "Quote" page found in the navigation at the top of the page, or just send me an email joecrawfordonline@gmail.com