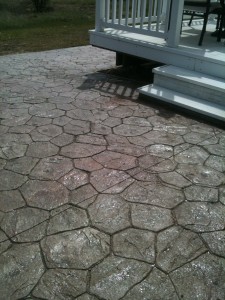 I recently worked on a project I wanted to share with visitors here on MichiganStoneMason.com which was actually a stamped concrete project.  Also known as decorative concrete, stamped concrete is achieved by applying a heavy rubber like stamp with an imprint molded into the rubber.  It leaves a variety of appearances from a real wood timber look to a random stone pattern like the ones we used in this project.  This was a stamped concrete job in Clare Michgan and was just completed recently.
There are several different ways you can go about getting a stamped concrete project done and costs vary widely depending on the process you choose. I offer a low cost stamping method where we dont dye the actual redi mix concrete that is delivered.  The coloring of concrete comes close to doubling the cost of the material depending on what color you choose, but if your budget doesn't allow for $14 per square foot concrete, there are several options that still leave a cool looking piece of concrete.
Prices for Stamped Concrete in Michigan
Prices vary mostly by the process you choose.  When you dye the material being delivered the cost goes up dramatically.  The top end process for stamping concrete in Michigan starts with dyed concrete then comes another hardener which adds a second color and more depth to the look.  Then a colored release which is another colored powder.  The concrete is stamped then the excess release agent is cleaned off and a special UV protective sealer is applied.  The colored release tends to gather in the deepest crevases in the pattern and it is sealed in place giving the concrete the most natural appearance with the depth of a real stone job.  The price for decorative stamped concrete in Michigan using this process anywhere between $8.00 and $14.oo per square foot.  Which isn't bad if you are doing a 10'x10′ patio, but it can really add up on larger areas like driveways and such.  I have stamping methods I've used successfully that start at around $4.00 a square foot and go up from there.
Decorative Concrete And Stamped Concrete Uses
It seems most of the decorative concrete projects I've done have been patios and sidewalks.  We've also done a few driveways and commercial storefront entryways over the years. Over the years I'd say the most popular uses for stamped concrete is for patio's and outside entertaining areas.  They really change the look and feel of the area and can certainly increase the value and curb appeal of any home.
Stamped Concrete Contractors In Michigan
There are several stamped concrete companies in Michigan that only do decorative type stamped concrete but a lot of contractors in Michgian who do stamped concrete also do other types of concrete work as well.  I'd recommend using a stamped concrete conctractor to do your decorative concrete job and definately would call stamped concrete a do it yourself type project.  If you are already familiar with pouring concrete then you might try stamping your own project, it's really just a timing thing and making sure you know the process.  There is a good company over in Saginaw Michigan that handles stamped concrete supplies including stamps that you can rent.  Renting some stamps seems like a better idea to me than trying to own each different set and they have just about any type of stamp you could want.  I plan on building a barn this fall and plan to do the stamped hardwood planking look.  I've seen it in another barn and it's a really neat look.