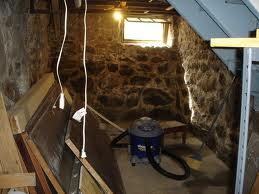 Repairing stone foundations on houses and barns seems to be the most popular in the spring here in Michigan.  While it can be a challenge to repair exterior stone during the cold winter months, doing interior work goes well during the winter.  I can't speak for all stone foundation contractors but I offer a better price in the winter due to the fact that I'm not as busy. I know it sounds simple, but it is what it is.
Several of the stone foundation projects we did last spring could have been done during the winter months, at least the interior portion.  I would have save the customers a lot of money too. If you have a stone basement that needs attention and this includes interior work consider getting a quote and having a portion of the work done during the winter.
I can only do so many projects in May and June and seems like every year 80% of the work is done in those two months.  I'd estimate you could save 30% or more by hiring me in the winter, why? Because I get bored in the winter and I don't have a lot to work on from mid December thru Aril. You can get a Stone Foundation Repair Quote here.
I also run an organically grown produce farm and a CSA program where we grow food for around  150 families in the Central Michigan area. This is intense during the summer months, but again, quite slow in the winter.  Most of our stone work fits in with preparing for the new year in the vegetable fields. Planting is usually done by Mid May and then I'm off doing stone restoration projects for a couple months.
If you have a heated basement that crumbling stone consider having the work done during the winter, like I said, you'll save a bunch of money and keep me from going batty, with nothing to do. 🙂 You can get a quote to get your stone basement repaired here.